Donna and Me getting ready
to go up to our room that
evening. Bought more "Stuff".
This is where I bought the duffle
bag and tote bag to put more
"Stuff" in that I bought. Hey
the duffle bag even had wheels
on it. :)))
Me and my cousin Shirley
standing in front of the
main lodge, At Denali
Princess Lodge.
Berdie - Me- Shirley
Getting ready to go
in to see the live show
our first day at Denali
Lodge. Gary and Donna
went white water rafting.
Gary, Kenny, Shirley and
Donna in the coffee shop
at Denali Princess Lodge.
Shirley, Donna and me,
in coffee shop at Denali
Princess Lodge.
Wednesday August 30th.
Up at 5:30 am. Went and
had breakfast at the coffee
shop they had at the lodge.
Going on a bus tour at 7:15
to Denali National Park. Saw
a Grizzly Bear, came right up
to our bus. Very cold. They
gave us a cup of hot chocolate
and some brownies. Got to keep
the insulated cup, it had Denali
National Park on it. Real nice.
Took lots of pictures.
Picture of Denali National Park.
Picture sent to me by Gary.
This was the Grizzly Bear
that came up to our bus.
We were all standing outside
the bus watching it come
toward us, when the bus driver
made us all get inside the bus.
One lady stayed out there, and
the bus driver had to grab her
by the back of her coat and pull
her in the bus. He told her that
the bear could tear her apart.
He also told us all, the next
time we should listen to what
he is saying. Doesn't want
anyone getting hurt
After the bus tour thru
Denali National Park,
came back to the lodge.
Had to get lugguage set
outside our rooms. Was
leaving to catch the train
again to go to Fairbanks.
Had a few hours to spare,
so guess what? Went in the
gift shop and bought more
"Stuff", plus set around
in the main lodge and played
cards...walked around until
it was time for the buses
to take us to the train.
Got into Fairbanks at 9:30
pm. Again our luggage were
in our rooms.

Gary, Me, Berdie next to
window and Shirley playing
cards (Hearts) on the train,
on our way to Fairbanks.
Kenny standing waiting for
his turn:))).
Fairbanks Princess Hotel.
This of course is owned by
Princess Cruise Lines. This
is the last place we will be
staying before leaving for
home...BOO!!! HOO!!! Again
our luggage was in our rooms
when we got there. Got there
about 9:30 in the evening.
Went to our rooms...walked
around and of course visited
the gift shop in the hotel,
bought more "Stuff". Went
to the coffe shop in the hotel
and after that, went to bed.
Had been a long day and we had
to get up early the next morning.
Thursday August 31st. Fairbanks
Got up at 5:30 am. ate breakfast
at 7:00. The tour starts at 8:30.
Will see the city, the Alaskian
Pipeline and pan for gold.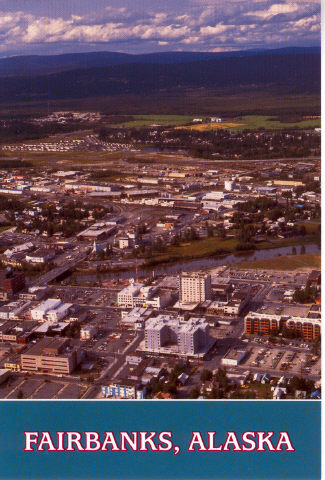 This is the five of us standing
under the Alaskian Pipeline.
Kenny, Shirley, Donna, Berdie
and Me. Gary was taking the
picture. Had gift shops there
to. :)))
Our next stop on the bus tour,
is the gold mine. Here we got
to pan for gold, and keep what
we found. It was really a working
mine. Went down in these cars and
got to see the miners working.
Shirley, Donna and Me,
panning for Gold. Looks
like I am just watching
the other two...HMMMM!!!
Here ya go...me panning for
gold. Guess I needed help.
Donna must be doing ok.
Kenny, Gary and Berdie panning
for Gold. See Kenny just watching
too...Me ain't the only dummy..:)))
Well the show is almost over.
So sad. This is the last thing
we do before getting ready to
leave for home tomorrow. We are
taking a paddle boat cruise this
afternoon. Saw Susan Butcher's
home. She won the "Iditarod"
three times. She told a story
about her dog "Granite". After
that we went to an "Eskimo"
village. Saw a women skin and
prepare a salmon in less then
a minute. She was also the bead
lady. Her work is in the "Smithsonian
Institute".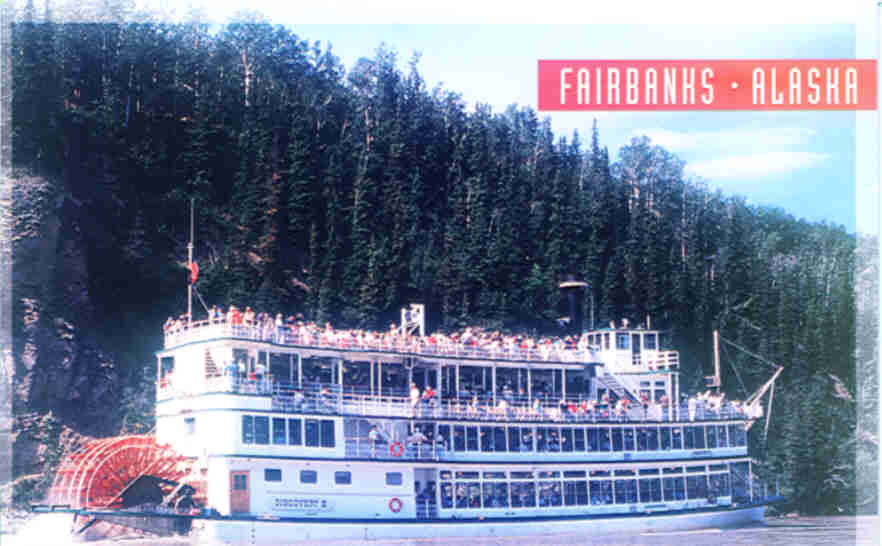 This is the "Discovery 3 Sternwheeler
Boat" that we were on. The boat stopped
at a lot of places for us to get off at.
Others, it stopped and the people on land
talked to us and explained different things
that concerned their business, using a mic.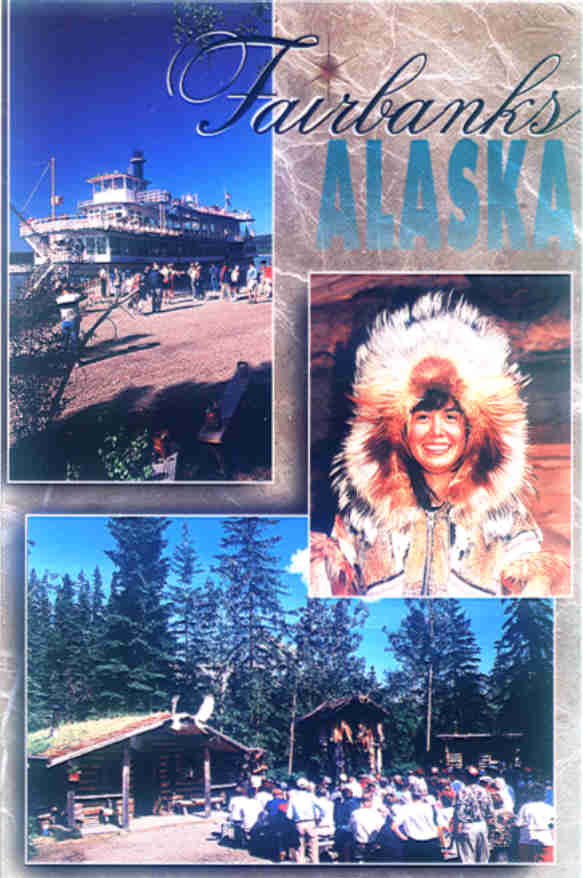 This is the "Eskimo Village" that
we got off the paddle boat to see.
The girl in the upper right corner
was a twin and her twin was also
there. Believe it or not they were
from Decatur, Illinois. They did
a style show of Eskimo clothes.
Their mother is Eskimo and they
live there now. Their mother was
the one that made all the clothes
that they modeled. Beautiful. The
village was very big. We saw all
sorts of things.
Well this is it...BOO HOO!!!
We have this evening yet, to
do as we please. Then we leave
for home tomorrow.
Trying to remember where we ate at,
our last night in Fairbanks. Must
be having one of those "Senior
Moments. Will have to add later. :)))
Friday September 1st.
Had too be up at 5:30 am.
Had too be ready to catch
the bus that took us to the
airport. Ate breakfast...then
shopped some more in the hotel's
gift shop waiting to leave.
Started the journey home, after
having the vacation of a life
time. Everyone had a "GREAT"
time. I didnt want to leave,
but............:(((((((((.


Gary and Me standing in line
at the airport. Don't know why
he has a smile on his face. :(((
I didn't even turn around, I was
sad. Didn't wanna leave. :(((
Now this is all our luggage,
in this picture, some you
can't see. Plus what we were
carrying on the plane, was in
our hands. By the time I got
up to the ticket agent, she
said that she would try and
get by without charging me
extra, because my luggage was
so heavy. It was all that "Stuff"
I bought...:)))
Alaskian Airlines...took us to
Seattle, Washington.
WELL THIS IS IT!!!
SO LONG ALASKA...YOU SHOWED US
THE VACATION TIME OF OUR LIVES.:)))

Seattle,Washington
Had a 4 hour layover in
Seattle. Had lots and lots
of gift shops in the airport
Had lots and lots of eating
places. Ate...bought more "Stuff".
Walked around, went outside. Huge
airport. Flew out of Seattle on
United Airlines. Flew in to Denver,
had about an hour there. This is where
we parted. Gary and Berdie went on to
Kansas City. Kenny, Shirley, Donna and
Me went to St. Louis. Vacation of a
lifetime. THE END!!!
I would like to give "Credit" to my "Lovely" sister-in-law for keeping a daily log, so I could do these pages. I would also like to give "Credit" to my "Super" brother for supplying most of the pictures. Without them it would not have been possible to make these two pages. THANK YOU SO MUCH GARY & BERDIE :)))