~Cherry Pie~(yummy)
by Skip & Flip
~Mmmm---Gooood~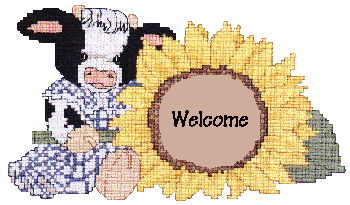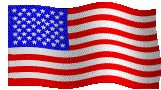 GOD BLESS OUR COUNTRY
MAYBERRY RECIPES
Aunt Bee's Apple Pie
1/2 cup butter or margarine
4 ounces cream cheese
2 cups all-purpose flour
2 1/2 cups sliced apples
1 cup sugar
1/3 cup orange juice
2 tablespoons honey
1/2 teaspoon cinnamon
1 tablespoon all-purpose flour
1/2 cup butter or margarine
In a large bowl combine 1/2 cup of butter and the
cream cheese, and let come to room temperature.
Add 2 cups of flour, and blend well. Chill. Roll out
half of the dough and place in a 9-inch pie plate.
Reserve the remaining dough for the top crust.
In a saucepan combine the remaining ingredients
and bring to a boil. Pour the mixture into the crust.
Roll out the remaining crust and place over the filling.
Cut slits in the top crust to allow steam to escape.
Bake in a 350º oven for 45 minutes.
Aunt Bee's Kerosene Cucumbers
Cucumbers
1 bunch dill
6 hot peppers
6 cloves garlic
6 slices onion
6 teaspoons whole spices
6 lumps alum
1 quart cider vinegar
2 quarts water
1 cup salt
Wash and dry enough cucumbers for six
sterlized 1-quart jars. In the bottom of each jar
place a portion of the dill, 1 hot pepper, 1 clove
of garlic, 1 slice of onion, 1 teaspoon of whole
spices, a small lump of alum, and cucumbers.
In a saucepan combine the vinegar, water, and
salt. Let the mixture come to a rolling boil,
then pour into the jars. Seal immediately.
Makes 6 quarts.
Goober's Radiator Flush Punch
2 cups prepared tea
Juice of 2 oranges
1 - 12-ounce can orange soda
Juice of 1 lemon
1 cup ginger ale
Orange and lemon slices
In a pitcher combine all of the
ingredients. Serve over ice.
This is best when served with
comic books. :)))
Barney's Salt and Pepper Steak
1 1/2 pounds sirloin steak
1/2 cup oil
1 onion, chopped
1 green pepper, chopped
1/2 teaspoon salt
1/4 teaspoon pepper
3 tablespoons all-purpose flour
1 cup water
3 tablespoon soy sauce
Cooked rice
Cut the steak into very thin slices. In a
skillet with a lid heat the oil and add the
steak slices. Cook covered until browned.
Pour out some of the oil and add the
remaining ingredients except the rice.
Cover and cook for 30 to 35 minutes,
until the juice has thickened. Serve over
rice.
Opie's Carrot-top Cake
1 1/2 to 2 cups sugar
1 1/2 cups oil
4 eggs, beaten
2 cups self-rising flour
2 teaspoons cinnamon
1 teaspoon vanilla extract
2 to 3 cups grated carrots
1/2 cup chopped nuts
1/4 cup margarine
1-8 ounce package cream cheese
1-1 pound box confectioners' sugar
1 teaspoon vanilla extract
Milk, if needed
Grease and flour 3 cake pans. In a large bowl
combine the sugar, oil, eggs, flour, cinnamon,
1 teaspoon vanilla extract, carrots, and nuts in the
order given. Pour into the prepared pans. Bake in
a 300º oven for about 30 minutes.
Cream together the remaining ingredients, adding
milk if necessary to make the icing spreadable.
Spread on the cooled cake.
Andy's Carolina Corn Pone
1 cup cornmeal (not self-rising)
1 teaspoon salt
1 cup boiling water (more as needed)
2 tablespoons bacon drippings or oil
In a bowl combine the cornmeal and
salt. Add the boiling water slowly,
stirring to remove the lumps. Add enough
water to make a medium batter. Using a
cookie sheet with sides, heat it and the
bacon drippings or oil. Coat the pan with
the hot oil. Pour the hot drippings into the
cornmeal mixture. Stir well. Using a large
mixing spoon, drop the batter onto the cookie
sheet by the spoonful. Pat a little with the back
of the spoon. Bake in a 400º oven for about
25 minutes. The corn pone should be crusty
on the bottom and soft in the center.
Otis Campbell's Cranberry Pie
2 3/4 cups cranberries
2 cups sugar
2 teaspoons cornstarch
4 tablespoons all-purpose flour
1/2 cup brandy or orange juice
Pastry for 1-8 inch two-crust pie
In a large bowl combine the cranberries,
sugar, cornstarch, flour, and brandy or
orange juice. Turn the mixture into the
pie crust and top with the remaining pastry.
Bake in a 350º oven for 50 to 60 minutes.
Helen's Orange Chicken
4 chicken breasts, boned and skinned
Butter
Salt
Orange juice
Tabasco sauce
Orange sections
Currants
Raisins
Diced walnuts (optional)
Rice pilaf
Flattenthe chicken breasts slightly. In a
skillet heat a small amount of butter and
cook the chicken breasts for about 5
minutes on each side. Salt lightly. Add
orange juice to cover, and simmer for a few
minutes. Add tabasco sauce to taste, orange
sections, currants, raisins, and walnuts as
desired. Cover and simmer for about 25
minutes, until the chicken is tender. Check,
and add more orange juice if needed.
Floyd's Pan-Fried Flounder
1/2 cup oil
1/2 cup cornmeal
2 teaspoons salt
1/4 teaspoon pepper
1/4 teaspoon garlic powder
2 pounds flounder fillets
In a skillet heat the oil over medium
heat. In a shallow dish combine the
cornmeal, salt, pepper, and garlic
powder. Roll the fish in the cornmeal
mixture and drop in the hot oil. Fry for
3 to 5 minutes, until browned. Turn and
brown on the other side.
Thelma Lou's Neighborly Popovers
3 eggs
1 cup milk
1 cup sifted all-purpose flour
1/2 teaspoon salt
1 tablespoon butter or margarine, melted
Grease ten 5-ounce ovenproof custard
cups. In a large bowl beat together all
of the ingredients with an electric mixer
or rotary beater. Pour the batter into the
cups, filling them about 1/3 full. Bake in
a 400º oven for about 35 minutes, until
the popovers are firm, crusty, and golden.
Pipe Down Pork Chop Casserole
4 or 5 potatoes
4 or 5 pork chops
1-10 1/2 ounce can cheddar cheese soup
1-10 1/2 ounce can French onion soup
Slice the potatoes into a 9x11 inch casserole dish.
Arrange the pork chops over the potatoes. Combine
the soups and pour over the pork chops and potatoes.
Cover with foil. Bake in a 350º oven for 1 hour
Tex Foley's Cowboy Soup
1 pound ground beef
1/2 cup chopped onion
1-16 ounce can mixed vegetables
1-10 ounce can Rotel tomatoes
1-13 ounce can Spanish rice
1-14 1/2 ounce can stewed tomatoes
1-17 ounce can cream style corn
In a large stock pot brown the ground
beef and onion. Add the remaining
ingredients, cover and simmer for
about 1 hour.
Mt. Pilot's Pecan Pie
1 cup dark corn syrup
3 eggs, slightly beaten
1/8 teaspoon salt
1 teaspoon vanilla
1 cup sugar
2 tablespoons margarine, melted
1 cup pecans, chopped or halved
1-9 inch unbaked pie shell
In a large bowl combine all of the
ingredients except the pie shell,
adding the pecans last. Pour the
mixture into the pastry shell. Bake
in a 400º oven for 15 minutes.
Reduce the heat to 350º and bake
for 30 to 35 minutes. The pie is done
when the outer edge of the filling is
set and the center is slightly soft.
Little Big Orange Cookies
1 cup butter, softened
1 cup sugar
1 egg
1 1/2 teaspoons orange extract
1 teaspoon grated orange peel
1 1/2 cups sifted all-purpose flour
1/2 teaspoon salt
In a large bowl cream together the butter
and sugar. Add the egg and the remaining
ingredients. Drop by the spoonful onto an
ungreased cookie sheet. Bake in a 375º
oven for 10 minutes. Makes 2 dozen.
Strawberry Butter - (By Rat)
1/2 cup butter or margarine
2 cups sifted powdered sugar
1/2 teaspoon vanilla or brandy extract
10 ounces crushed strawberries
Cream butter or margarine. Gradually add
the powdered sugar. Beat until fluffy. Blend
in vanilla or brandy extract and strawberries.
Chill. (not you, the mixture.) :)))
Strawberry Pie - (By Doris Emery)
4 - Boxes Strawberries - Fresh - Clean & Wash - De-Stem
1 - Cup Sugar
2 - Slightly heaping soup spoons of Corn Starch
1 - teaspoon lemon juice
Place 3 boxes of strawberries in baked pie shell.
Mash 1 box of strawberries and add 1 cup sugar
and the corn starch. Mix well and cook until thick
and clear. Cool and add lemon juice. Spoon over
all berries, making sure all berries have a glaze over
them. Also allowing cooked berries to run into pie
shell, this holds pie together when it is sliced.
Monkey Bread - (By PattyPoo)
3 cans buttermilk biscuits
1/2 cup sugar
1/2 teaspoon cinnamon
1 cup butter or margarine
3/4 cup sugar
3/4 teaspoon cinnamon
Quarter biscuits and roll in a 1/2 cup sugar
and 1/2 teaspoon cinnamon. Place in a well
greased bundt pan. Melt butter or margarine,
stir in 3/4 cup sugar and 3/4 teaspoon cinnamon.
Pour mixture over biscuits. Bake 350º oven for
30 minutes. Very good and easy to make for
a dessert.
15 Minute Stir-Fry
1 Jar - Chicken Tonight - Sweet & Sour
Hot Cooked Rice
1 tablespoon Vegetable Oil
1 lb. Boneless Chicken Breasts - sliced into thin strips
1 Package - (16 oz) Frozen Vegetables - Broccoli,
Mushrooms, Red Peppers, Water Chestnuts
Thinly sliced scallions for garnish
Heat vegetable oil in a large skillet, or wok.
Add chicken, stir 5 to 7 minutes or until
chicken is thoroughly cooked. Add frozen
vegetables, cintinue to cook about 5 minutes
or until vegetables are tender. Add Chicken
Tonight Sauce, simmer until heated through.
Serve over hot cooked rice. Garnish with
scallions. Serves 4.
Caesar Salad Dressing - (By Berdie Mowrey)
1 egg
2 garlic cloves
4 tablespoons vinegar
1 tablespoon accent
1/2 teaspoon pepper
1 package Good Season Italian dry mix
1/3 cup parmesan cheese
1 1/2 to 2 cups oil
Use a blender
Beat well on high speed eggs and garlic cloves.
Keep blender going on high and add vinegar,
accent, pepper, Good Season mix, parmesan
cheese, beat for 1 minute. Add the oil, very
slowly, as it gets very thick. Keeps for 2 weeks
in the refridgerator. Serve over lettuce and bread crumbs.
Homemade Ice Cream - (By Lola Smith)
6 eggs
3 cups sugar
2 quarts half and half
1/2 pint whipping cream
1/4 cup or 4 tablespoons vanilla
dash salt
Enough whole milk to finish filling can to line on ice cream maker
Beat eggs, sugar, and vanilla, beating well.
Blend half and half and whipping cream, do not beat.
Pour into ice cream can and then add milk to finish can
to line marked on the can. (If using a 4 quart ice cream
maker, you might prefer to use only 2 cups sugar.)
Hamburger Corn Pone - (By Shirley Stanton)
1 lb ground beef
3/4 teaspoon salt
1 No.2 can crushed tomatoes
1/3 cup chopped onions
2 teaspoon chile powder
1 can kidney beans
Brown meat and onions. Add salt, chile powder,
tomatoes, and kidney beans. Cover and simmer
for 1/2 hour. Serve over baked cornbread. Really
good.
Coconut Macroon Cookies - (By Phyllis Cox)
4 egg whites -(6)
1 1/2 cup sugar - (2 1/4)
1 teaspoon vanilla - (1 1/2)
14 ounces coconut - (21 oz.)
1/2 cup flour - (1 3/4)
Dash salt
The numbers in parenthesis ( ) is for a
double batch. That is what I make.
Preheat oven to 325º - Line cookie sheet
with foil.
Mix egg whites, sugar, salt, and vanilla. Add
flour and stir until well blended. Fold in coconut.
Drop by teaspoon, about 1 inch apart. Bake 15
to 20 minutes. Cool on cookie sheet. Peel foil
from cookies.
Beer Cheese Dip
1/2 cup beer
1/2 teaspoon tabasco sauce
1 lb.cheese, cut into 1 inch pieces
Mix all ingredients and put in a crockpot,
2 quart if you have one. Cover and cook
on high for 40 minutes until cheese melts.
Stir until mixture is smooth. Turn heat to
low. Dip will hold for 4 hours if you stir
occasionally. Serve with pretzels, bread
cubes, or crackers.
Chocolate Chip Bars - (By Erika Owings)
2 1/4 cup flour
1/2 teaspoon salt
1 teaspoon baking soda
1 cup margarine
3/4 cup sugar
3/4 cup brown sugar
1 teaspoon vanilla
2 eggs
12 ounce package chocolate chip pieces
1 cup pecans
Sifr together, flour, salt, and baking soda. Set aside.
Mix together the margarine, sugar, and brown sugar.
Add the vanilla, and the eggs to the above ingredients.
Stir until smooth. Add the flour mixture in small amounts,
at a time. Add the chocolate chips and pecans. Bake in
a 9x13 greased and flour pan. Bake at 350º for 30 minutes.
No Bake Cookies - (By Mary Cummings)
2 cups sugar
1/2 cup milk
1 stick margarine -( real butter makes it richer)
Bring above ingredients to a full rolling boil and
boil for 2 minutes. Take off heat immediately.
and add in this order:
a glob of peanut butter
2 cups quick-cook oats
2 rounded teaspoons cocoa
dash of salt
Stir until well blended. Then add 1 teaspoon vanilla.
Stir until mixture seems thick enough to spoon out and
form a cookie. Spoon out cookies on waxed paper and let cool.
(I like to eat them while they are warm!) (Yum)
Corndogs - (By George Ware)
1 cup flour
2/3 cup yellow cornmeal
2 tablespoons sugar
1 1/2 teaspoons baking powder
1 egg (lightly beaten)
3/4 cup milk
2 teaspoons vegetable oil
8 hot dogs
8 wooden skewers
Sift together, flour, cornmeal, sugar, and baking powder
in a bowl, set aside. In another bowl whisk together egg,
milk, and vegetable oil. Add mixture to flour mixture, beating
with a wooden spoon until batter is smooth.
Heat some vegetable oil over medium heat, to 350º.
Meanwhile dry hot dogs with paper towel, then put
them on the wooden shewers. Dip hot dogs into
batter until evenly coated. (Tip - pour batter into a
tall glass, then dip hot dogs). Gently place battered hot dogs
in hot oil and fry turning once or twice until crisp and golden
brown, about 3 minutes. Drain on paper towel. Serve with
mustard or ketchup or both.
Easy Cinnamom Rolls (Sticky Buns)
1/2 stick margarine or butter, melted
1/2 cup brown sugar
1/2 cup nuts, chopped
1 tablespoon water
1/2 cup white sugar
1 to 1 1/2 teaspoons cinnamon
2 - 11 ounce cans refrigerated regular or buttermilk biscuits
Take 2 tablespoons melted butter with brown sugar, nuts,
and water and place in the bottom of 10-inch bundt pan.
Mix white sugar and cinnamom together. Dip each biscuit
lightly in the rest of the melted butter then into sugar and
cinnamom mixture.
Place each biscuit on end in bundt pan, pinch tips or sides
of biscuits slightly together (this helps prevent ring from falling
apart when served). Bake at 400º for 20 to 25 minutes. After
baking turn biscuit ring out onto a plate. Serve immediately. (Or
cool the rolls to serve later.) Reheat to serve if you like. This is easy
to fix and they are yummy.
Kansas City Ribs
Ribs
3 racks pork baby back ribs (about 1 pound each)
1 onion, cut into quarters
1 orange, cut into quarters
1 tablespoon whole black peppercorns
1 tablespoon whole coriander seeds
Barbecue Sauce
3 tablespoons margarine or butter
1 medium onion, chopped
4 garlic cloves, finely chopped
1 can (15 ounces) tomato sauce
1/4 cup cider vinegar
1/4 cup packed brown sugar
1 teaspoon salt
1. Prepare ribs: In 8-quart saucepot, place ribs,
onions, orange, peppercorns, coriander seeds,
and enough water to cover; heat to boiling over
high heat. Reduce heat to low; partially cover
and cook 50 minutes to 1 hour or until ribs are
fork tender. Transfer ribs to platter. If not serving
right away, cover and refrigerate until ready to serve.
2. Meanwhile, prepare barbecue sauce: In 2-quart
saucepan, heat margarine over medium heat until
melted. Add onion and garlic and cook 8 minutes
or until softened, stirring occasionally. Add tomato
sauce, vinegar, sugar, salt, and pepper; heat to
boiling over high heat. Reduce heat to low; simmer
40 minutes or until thickened, stirring occasionally.
Makes about 2 2/3 cups.
Mock - Barbecue Beef Sandwiches - YUMMY - (By Jo Ufert)
1 lb. lean hamburger
1 tablespoon shortening
1 onion (diced)
1 tablespoon sugar
1 tablespoon brown sugar
2 tablespoons mustard
1 tablespoon vinegar
1 teaspoon salt
1 cup catsup
Hamburger Buns
Cook hamburger and onion in skillet with shortening,
until done. (drain off grease). Add sugar, brown sugar,
mustard, vinegar, salt, and catsup. Cook at least five
minutes or so longer. Great for company, parties, or lunch,
anytime is great!
Banana Cream Cheese Pie - (By Nancy Kessinger)
Keebler Vanilla Pie Crust
2 bananas, slightly green
1 can Eagle Brand sweet milk
1/3 cup lemon juice
8 ounce cream cheese, softened
Wash bananas in lemon juice, slice and layer
in pie crust. Whip milk, lemon juice, and cream
cheese. Pour mixture over bananas. Chill. Serves 8
Spread whipped cream over top, if desired.
Sawdust Pie - Very tasty, unusual pie!! - (By Cheryl)
7 egg whites
1 1/2 cups sugar
1 1/2 cups graham cracker crumbs
1 1/2 cups pecans (chopped)
1 1/2 cups flaked coconut
1 9 inch pie crust (unbaked)
Mix together the egg whites (unbeaten) and sugar.
Stir in the graham cracker crumbs, pecans, and
coconut. Stir together by hand until well blended.
Pour into unbaked pie shell. Bake at 325º until
glossy and set, about 25 to 30 minutes. Center
should be gooey. DO NOT OVERBAKE!.
Serve with sliced bananas and whipped cream.
Enchiladas
2 pounds lean ground beef
1 large onion (chopped)
1/8 teaspoon garlic salt
12 (8 inch) flour tortillas
2 teaspoons vegetable oil
8 ounces shredded Colby cheese
2 (19 ounce) cans enchilada sauce
Preheat oven to 350º.
In a heavy saucepan or skillet, brown
the ground beef and onions. Season the
ground beef mixture with garlic salt and
set aside.
In a skillet, fry the tortillas in vegetable
oil. Spoon some meat mixture and cheese
into the center of each tortilla, roll them up
and arrange them in a 9x13 baking dish or
oblong pan. Pour the enchilada sauce over
the rolled enchiladas and top with any remaining
meat or cheese. Bake in oven for 20 to 30 minutes.
Make your own Buttermilk
1 cup sweet milk
1 tablespoon lemon or vinegar
Stir together and let set for 5 minutes.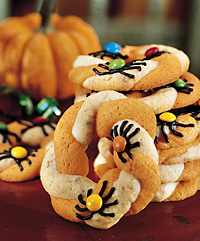 Spidery Cookie Wreaths...Boooooo!!
3/4 cup butter, softened
3/4 cup sugar
1/4 teaspoon baking powder
1 egg
1 teaspoon vanilla
1 3/4 cups flour
1/4 cup finely chopped pecans or almonds
1 teaspoon grated orange peel
1/2 teaspoon orange paste food coloring
1 cup sifted powdered sugar
Milk
Red cinnamon candies or minature
candy-coated semisweet chocolate
pieces.
In a large mixing bowl, beat the butter with an electric mixer
on medium to high speed about 30 seconds or until softened.
Add the sugar and baking powder. Beat until combined, scraping
the sides of the bowl occasionally. Beat in the egg and vanilla. Beat
in as much flour as you can with the mixer. Using a wooden spoon,
stir in remaining flour.
Place half the dough in a small mixing bowl. Stir in the pecans or
almonds, set aside. To the remaining dough, knead in the orange
peel and food coloring. Cover and chill both portions of dough
about 30 minutes or until easy to handle.
On a lightly floured surface, shape each dough portion into a 12
inch long log. Cut each log into twenty-four 1/2 inch thick pieces.
Roll each piece into a 6 inch long rope. If necessary, cover and chill
ropes for 10 to 15 minutes if soft and difficult to work with. Place a
white and orange rope side by side and twist together 5 or 6 times.
Shape into a circle, gently pinching together the ends. Place on an
ungreased cookie sheet. Repeat with remaining dough, leaving 2 inches
between cookies. bake in a 375º oven for 8 to 10 minutesd or until edges
are light brown. Cool on cookie sheet about 1 minute, then remove and
cool on a wire rack.
In a small mixing bowl, stir together sifted powdered sugar and enough
milk to make an icing of piping consistency. Tint with desired colors of
paste or liquid food coloring.
Using a decorating bag and writing #2, pipe icing into various-size
spiders randomly on cookies. If desired, use red cinnamom candies,
or candy-coated chocolate pieces for the body of the spider. Use a
dab of icing to hold body on cookies. Let cookies stand until icing is
set. Makes 24 cookies.
Creamy Macaroni & Cheese
1/3/ cup butter
1/3/cup flour
Salt & Pepper to taste
2/3 cup milk
2 cups cheddar cheese, shredded
2 cups uncooked macaroni, cooked until tender and drained
1 cup sour cream
Melt butter in a saucepan, add flour and salt and pepper
stirring constantly. Add milk and cheese and continur to
stir until mixture starts to thicken. Add sour cream and
macaroni and continue cooking for several minutes over
low heat. Serve immediately.
Carmel Cookies - (By Grandma Mowrey/Aunt Dorothy)
1 Stick Margarine
1/2 Cup Sugar
1/2 Cup Brown Sugar
1 Egg
1/4 tsp. Salt
1/2 tsp. Cinnamon
1 1/2 Cup Flour
1/2 tsp. Baking Soda
1 Cup Pecans or Walnuts (Optional)
Cream together the margarine, sugar, brown sugar and egg.
Add remaining ingredients. Drop by teaspoon on cookie sheet
Bake @ 350º for about 10 minutes.